Curriculum Implementation
At Co-op Academy Belle Vue, we are relentless in our ambition that all students can learn and enjoy every single subject.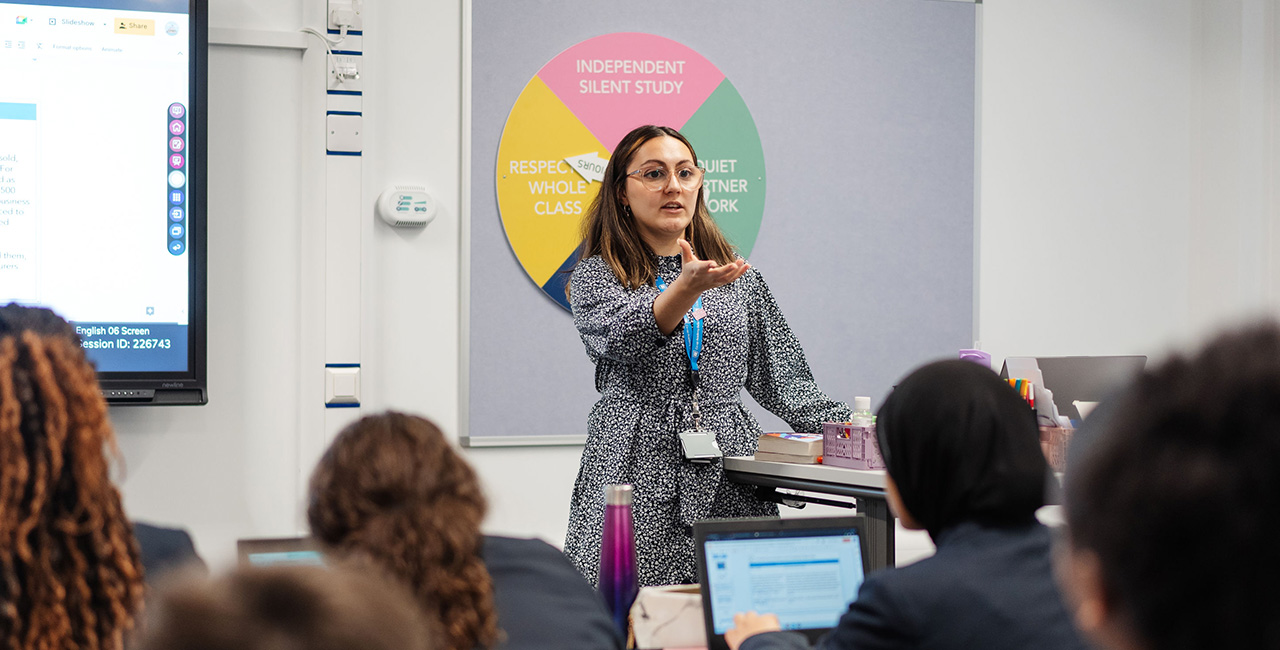 Teaching & Learning
At the heart of our school community lies the fundamental belief that teaching and learning are of utmost importance. We base our practices on evidence-based research and encourage high expectations for what constitutes excellent teaching and learning. Academic rigour, prioritising achievement over activity, is essential in our approach to education. We firmly believe that teachers should have expertise in their subject areas, and we support their ongoing development through training, lesson observations, and other quality assurance processes. We recognise that literacy and language are foundational to all learning and underpin every aspect of our curriculum.
We are a learning community that acknowledges that we have never arrived; there is always more to learn and ways to improve. We embrace feedback as a gift that helps us to grow and develop. We strive to foster an environment of cooperation, respect, responsibility, endeavour, and enjoyment, where all members of our community work together to achieve our shared principles.
The general principles of our lesson structure
Lessons should possess the core features of highly tailoring, intelligent sequencing and effective formative assessment.
Two useful models encapsulate these elements. First, you might prefer to think about the incremental learning model explained at the start of Chapter 5 in Teach Like a Champion 2.0 as 'I/We/You Do'. Alternatively, you might find the EEF seven-step model for learning more useful. Both of these models are detailed in the table below.
Do Now | Activating prior knowledge

Quizzing

Defining key terms from prior learning

Placing a picture/graph on the board and asking how it relates to prior learning

Use of a topic map/long term plan/specification to show students what has been covered and how the new learning fits in to prior learning

NB activating prior learning is not reserved simply for the start of lessons and in fact where possible and appropriate, elements of prior learning should be incorporated into new learning so that students are able to make links

Knowledge Development | Explicit instruction
I do

Sharing Curriculum Question (Separate icon)

Clear and concise instruction – using an economy of language

Include the use of pre-planned concrete examples and analogies to explain concepts

Presentation of information must be sure to reduce cognitive load i.e. removing superfluous and distracting material e.g. talking over text on a slide.Use dual coding i.e. representing information in verbal and visual form

Explicitly teach vocabulary (de-code, inference)

Revisit key material, concepts and key words (to be done multiple times throughout a lesson - not just at this point of a lesson)

Guided Practice | Modelling and students in respectful whole class

Providing exemplars

Demonstrations

Use of the visualiser

Walking, talking mocks

Creating a model live in front of the students e.g. creating a model paragraph

Talk through how to construct an answer and what makes an answer an 'excellent'' answer

Guided Practice | Memorisation of the strategy

Targeted questioning to check for understanding

Target questioning to ask a student to repeat a process/definition etc.

Hunting as students discuss their understanding with each other

Class discussion

Guided practice | Modelling with students
We do

Paired or group work

Co-constructing an answer on the whiteboard / under the visualiser taking ideas from the students

Use of writing frames and other such scaffolds

Rehearsal / drafting with others

Hunting for good answers and taking these from 'good' to 'great' as a class

Silent Independent Study
You do

Independent task completion

Answering exam style questioning, perhaps in exam conditions

Extended writing

Solving problems independently

Homework

Progress Reflection

Self-assessment or peer assessment using a success criteria.

Teacher assessment

Reflection diary for example in a practical subject to reflect on progress made in their practical work

Low stakes mini test

'Good to excellence' refinements

Meta-cognitive questioning

Tailor future teaching in accordance with students performance
Community Ambition is delivered in the first 30 minutes of each day. It is made up of community assembly, ambition briefings, community achievement and community reflection. We also dedicate curriculum time to Community Read & Literacy Intervention.
Community Assembly | Serves our academic curriculum and supports the personal development of our students. Through the delivery of our assemblies we educate students on key events throughout the year, such as Black History Month, Pride and key religious events as well as explicitly teaching our CARE principles.
Community Achievement | We explicitly teach the behaviours we expect from our students, this is planned throughout the year to ensure there is 100% clarity amongst our community of the high expectations we endeavour to deliver. Achievements are publicly shared and celebrated. Achievements include Mathematician of the week (Endeavour & Achievement Award), Linguist of the week (Endeavour & Achievement Award), Scientist of the week (Endeavour & Achievement Award), Reader of the week (Endeavour & Achievement Award).
Ambition Briefings | Supports our students' vocabulary, metacognition, and acquisition of the most powerful knowledge. Ambition sheets are used to ensure students not only encounter the most powerful knowledge of our curriculum but store it into their long term memory. Ambition Briefings have a specific focus on knowledge acquisition through retrieval practice as we believe that knowledge is the foundation for learning. Knowledge acquired through Ambition Briefings will equip our students not only to deepen their understanding of each subject and set the foundations for GCSE study, but will also help them to build their cultural capital by understanding the world around them.
Community Reflection | Allows SLT to give feedback on the week. It gives students an opportunity to reflect and to ask themselves one of our critical questions; have I been the best version of myself this week? The final act of the week is to acknowledge the Golden CARE student (Most Golden Tickets) and the Golden Tutor Group of the week.
Community Reflection also allows us to deliver a consistent farewell message, a calm exit from the academy and the opportunity to have a purposeful and prompt start to Friday detention.
Community Read & Literacy Intervention | We are passionate that all students at Co-op Academy Belle Vue develop a love for reading. That is why every student has a 30 minute community reading and intervention session Monday - Thursday. The vision for community reading & literacy intervention is to ensure that every student reads high quality and challenging texts so they are instilled with the knowledge to think critically and creatively. We also want our students to enjoy reading and become confident readers who read both at school and at home.
The 3 Key Aims of Community Read:
Better Readers - increase student's reading ability, fluency, and vocabulary.

Better Character – students read a wide variety of books from a wide variety of perspectives and this encourages students to be more tolerant of others and develop their cultural capital.

Love for Reading – we want all of our students to develop a lifelong love of reading - to be able to, and have experience of, reading a wide variety of texts.
Ambition for all through The Belle Vue Difference
An Ambition Sheet is a concise set of learning goals that students set for themselves to achieve in a particular unit or topic. These sheets are designed to help students visualise and track their progress towards their learning goals. The move to Ambition Sheets is driven by the need for students to take ownership of their learning and develop a growth mindset.
Students use their Knowledge Expert Booklets to self-quiz and review their learning progress. Additionally, students use their Ambition Sheets to track their learning goals and reflect on their progress towards them. We assess the substantive knowledge every half term with low-stakes multiple-choice quizzes during Knowledge Expert Week, which provides timely feedback for students to know how much knowledge they have retained and the gaps in their understanding. This feedback helps students become experts in every subject and take steps to achieve their learning goals. See some examples of students knowledge expert booklets: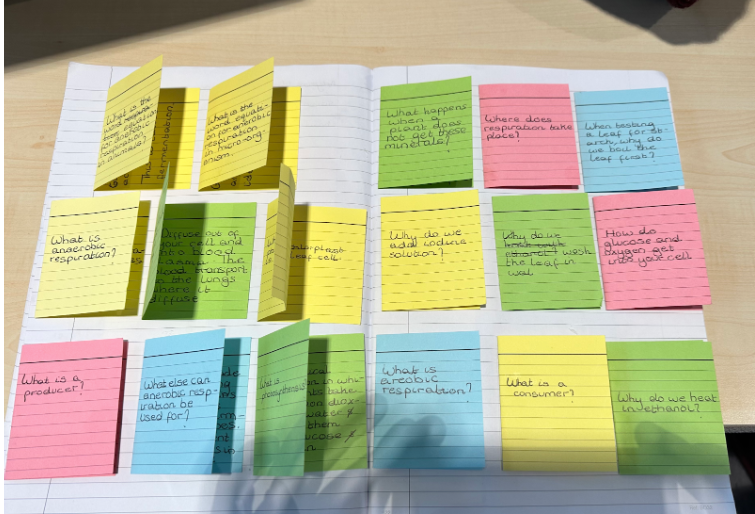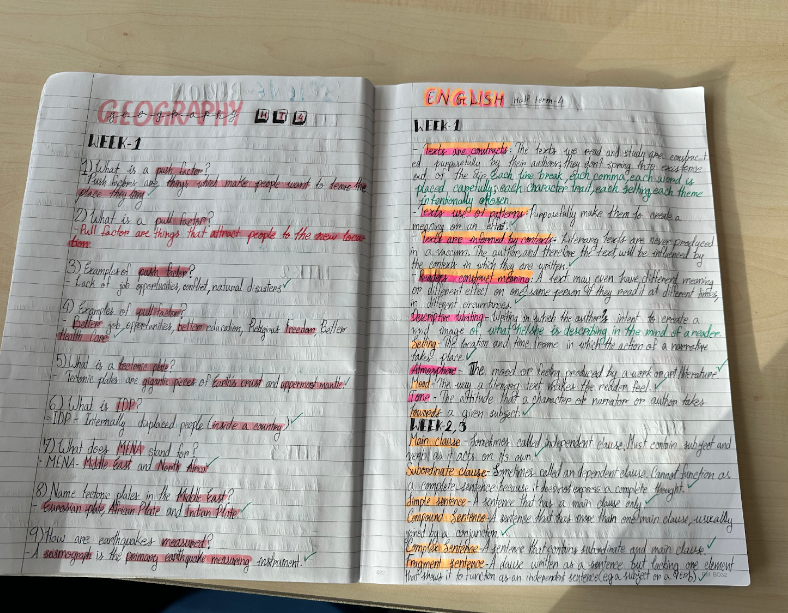 Parents and family members can support their children's learning by reviewing their Ambition Sheets regularly and encouraging them to reflect on their progress towards their learning goals. This approach promotes a growth mindset and helps students develop the skills they need to succeed in their academic pursuits.
How do we assess The Belle Vue Difference?
Learning is defined as knowing more and remembering more. If nothing has been remembered, nothing has been learned. Learning is an alteration in long term memory.

The curriculum is the progression model. It sets out what we want our students to learn, and therefore the 'progress' we wish them to make.

Progress is defined as the extent to which students have learned or are successfully learning the intended curriculum. If they are successfully learning the curriculum they are making progress.

Progress is something which happens over a sequence – proper, deep, learning is complex and multi-faceted. Progress is gradual and does not necessarily happen in handy 'lesson- sized' chunks.
At Co-op Academy Belle Vue our KS3 curriculum has been re-designed, reviewed and refined to ensure our students receive a knowledge rich, broad and balanced curriculum. As such the KS3 assessment model was not accurately assessing students' knowledge and understanding and did not reflect current best practice.
The proposed model of assessing and reporting students' progress through the curriculum is based on academic research, Education Endowment Foundation findings and best practice from schools and academies both within and outside of Co-op Academies.
This model will regularly assess students' progress through the curriculum; support the re-teaching of curriculum content and skills and will reduce the need for unnecessary workload. The marking and data entry will be meaningful and allow teachers to focus on planning and delivering the curriculum in the most effective way.
Designing our assessments to ensure our students become more powerful
Assessment is essential through every stage of the learning process (initial understanding, through transfer to and storage within long-term memory (storage strength), and finally to effective recall (retrieval strength).
We assess our Powerful Knowledge through knowledge quizzes to ensure students move beyond their common-sense experience, understand the world, and create powerful knowers. Knowledge quizzes will assess the granular concepts for the unit of study. Curriculum knowledge is not built by copying expert performance. For example, essay writing will not be learnt by continually writing essays, mathematical problem solving will not be mastered by solving lots of complex number problems, and beautiful art will not be created by replicating existing pieces of art. Application assessments are reached by gradually building knowledge and skill. Constructing sentences must come before forming paragraphs. Practising mathematical techniques is the prerequisite to knowing which techniques to choose for particular purposes. Observation and skill in the relevant media must be practised repeatedly before expressing meaning through art. The aim is to see if students know what we want them to know and if they don't, rapidly close the gap.
We assess our Powerful Knowledge through our application assessments to ensure students acquire the best knowledge, can explain this knowledge, move beyond their common-sense experiences, and demonstrate understanding of this world. Application assessments must be linear and assess not only the knowledge of the current unit but also what has come before. This is essential to assess whether students have remembered the knowledge from previous units. Application assessments will have two sections:
● Section 1 Knowledge is Power | Assessing the substantive knowledge
● Section 2 Applying the Powerful Knowledge | Assessing the application of substantive and procedural knowledge
Knowledge quizzes and application assessments should be planned prior to the unit being taught and be readily available for the students, particularly at Key Stage 3 (printed and given out at the start of the unit and uploaded to the school website). This must also include students having access to the ambition sheet.
Why is low-stake testing so important? The best summary I have seen in answer to this question is Roediger et al's 'Ten Benefits of Testing'. These are:
The Testing Effect: retrieval aids later retention.

Testing identifies gaps in knowledge.

Testing causes students to learn more from the next learning episode.

Testing produces better organisation of knowledge.

Testing improves transfer of knowledge to new contexts.

Testing can facilitate retrieval of information that was not tested.

Testing improves metacognitive monitoring.

Testing prevents interference from prior material when learning new material.

Testing provides feedback to instructors.

Frequent testing encourages students to study.
It is these learning effects and behavioural effects that make regular, low-stakes testing (or quizzing) so important and powerful. Above all, we must ensure that quizzing is not squeezed aside by assessment that primarily aims to inform managers about progress. Whether a school leader has the data to 'show' whether students are 'making progress' is relatively insignificant in relation to providing the space for teachers to achieve the benefits that low-stakes testing can bring. We should take a hard look at the assessment systems in our schools and make an honest appraisal of whether this might be the case.
The key features of effective learning environments are that they create student engagement and allow teachers, learners, and their peers to ensure that the learning is proceeding in the intended direction. The only way we can do this is through assessment. That is why assessment is, indeed, the bridge between teaching and learning. Assessment is the golden thread through each unit, using both formative and summative strategies. The shorter the time interval between eliciting the evidence and using it to improve instruction, the bigger the likely impact on learning. The design of knowledge quizzes, retrieval & practice, homework, and application assessments must allow us to rapidly close gaps in knowledge and result in students knowing more and remembering more.
Our aim is to embed powerful knowledge and prevent lost learning through regular low stakes assessment built into curriculum sequences will ensure learning can remain powerfully known rather than transient and ephemeral.
GCSE grades should never be used in KS3 to assess attainment or to 'track progress'. Flight path thinking is faulty as learning is not linear and GCSE criteria are only intended as the end of KS4 summative criteria.
Teachers will enter one "Level" per student, per term. Teachers will use a range of evidence and guidelines to guide their judgement of the students' progress through the curriculum. Each assessment point should be synoptic (that is, assessing pupils' learning since the start of the year).
The table below shares an overview of our assessment structure, including what and how we will report to our families.
Frequency

Assessment

Link to the Curriculum

How it is assessed

Intended Impact

How it will be reported

Daily

(for every subject)

Do Now 'retrieval questions' to assess knowledge and retention in every lesson

Progress reflection

The daily "low stakes quizzing" will have a focus on learning and information retrieval as part of every day practice and is intrinsically linked to the knowledge rich curriculum that has been developed.

Progress reflections measure the progress made compared to the curriculum question set at the start of the lesson.

Self / Whole class assessment. Reteach and retest the gaps until knowledge is secure.

Regular low stakes quizzing is essential for long term retention of knowledge. Supported by 'Do Extra' (homework) and Ambition Sheets students will be able to retain and recall factual information in more detail allowing students to "know more".

Self or peer marked in students books (this will be in green pen)

Half Termly / Termly / end of unit)

Students will complete a low stakes Knowledge Expert assessment in form time.

Students apply the knowledge and skills developed through lessons and homework into a Powerful Knowledge Assessment that assesses substantive and procedural knowledge.

Medium Term planning for every subject has regular outcomes. Powerful Knowledge assessments allow teachers to regularly assess students' progression through the curriculum and teach gaps in knowledge and skills.

Teacher cursory mark, ensuring detailed whole class feedback and they then "teach the gaps" and "celebrate excellence"

Knowledge expert quizzes are completed on google forms (mark provided on completion).

All evidence indicates that regular formative assessment and the feedback that comes with it has more impact on student progress than summative assessment. Students will make more progress and be able to "do more" with their knowledge.

Powerful Knowledge Assessment % score

Whole class feedback / endeavour task in books

Knowledge expert certificate shared to families and students

Marked and reported as a percentage alongside a class average (Powerful Knowledge Assessments).

Summative assessment will show progress over the 12 months of the curriculum and will be a record of students' long-term acquisition of knowledge and development of skills.

Outcomes will be reported to families at the end of every term.

Annually

Beginning mid-June to the end of term

Students sit one summative assessment at the end of the year that assesses the development of their knowledge and skills through the curriculum

The content of the curriculum for each year will be assessed to ensure there is an accurate record of students' progress.

Teacher marked and results shared in annual students report
Whole Class Feedback
Whole Class Feedback can be clearly identified in books (blue paper).

Whole Class feedback is based on a sample of books across the class

Whole Class Feedback should be about helping students build knowledge, skills and resilience to improve rather than just making something better; the improvements should be sustainable to future pieces of work.

Misconceptions should inform future lessons.

Teachers will provide generic and specific feedback. The purpose is to tackle common mistakes / areas for improvements and set individual students targets to improve / redraft their work.
Endeavour Lessons or Activities
Endeavour should be seen as either an individual activity to a task completed or a lesson looking at a range of improvements needed across multiple pieces of work or a large extended piece of writing.

Endeavour feedback should be completed in green pen by the students who clearly show where they are building resilience and self-regulation to improve their own work.
Literacy (Including SPAG) (Frequency | Every Opportunity)
Literacy is a key focus – students should have opportunities to explore and decode key words. Teachers always look for SPAG feedback when interacting with classes.
Teachers underline a reasonable number of any words or grammatical errors seen in students' work – students should be empowered to find their own corrections where appropriate. This can be done through verbal feedback, whole class feedback, or individual feedback.